ZO Medical and Skin Health products
Achieve a radiant, glowing complexion using the latest range from Dr Zein Obagi
CQC Registered Clinic
Expert medical advice and support
Award winning Worcestershire clinic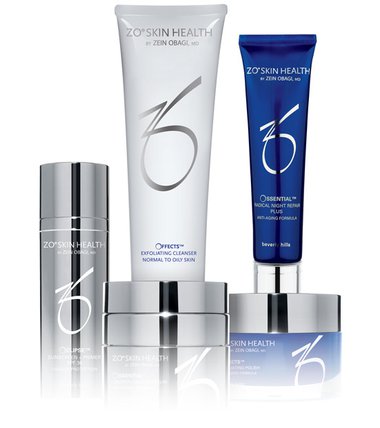 If you are looking for ZO Medical and ZO Skin Health products then Worcestershire's premier aesthetic and laser clinic can help you! We stock the full ranges of ZO Medical and ZO Skin Health products in our Droitwich clinic
History Of Zo
For over three decades, Dr. Zein Obagi defined the concept of skin health and developed skincare treatments and programs that can create truly healthy skin. Now with the introduction of ZO Medical products and ZO Skin Health products, Dr. Obagi's next generation of therapeutic skincare products and treatments are exclusively available through skin health professionals and can be dispensed to you at our Worcestershire clinic.
Zo Skin Health
Dr Zein Obagi developed Skin Health products based on a simple theory that all skin can be made to function in a healthy way, and more importantly to remain that way!
Using cutting edge ingredients such as pure retinols, advanced antioxidants, powerful peptides and all of these in strong concentrations, ZO Skin Health products take care of your skin from the inside out.
The Following Zo Skin Health Products Are Available For Purchase From Outline Skincare:
ZO Offects Exfoliating Cleanser
ZO Offects Hydrating Cleanser
ZO Offects Exfoliating Polish
ZO Offects TE-Pads Acne Pore Treatment
ZO Ossential Advanced Radical Night Repair Plus
ZO Ossential Daily Power Defense
ZO Ossential Growth Factor Serum Plus
ZO Ommerse Overnight Recovery Creme
ZO Ommerse Renewal Creme
ZO Oclipse Sunscreen + Primer SPF30
ZO Olluminate Intense Eye Repair
ZO Oraser Daily Hand Repair
ZO Oraser Microderm Hand Renewal
ZO Oraser Overnight Hand Recovery
ZO Oraser Body Emulsion
ZO Skin Health Level 1 Daily Skincare Program
ZO Skin Health Level 2 Anti-Aging Program
ZO Skin Health Level 3 Aggressive Anti-Aging Program
ZO Skin Health Ossential Lash Enhancing Serum
ZO Skin Health GSR System (All Skin Types)
ZO Skin Health Oclipse Sun Spray SPF50
ZO Skin Health Oclipse Smart Tone Broad-Spectrum Sunscreen SPF50
ZO Skin Health Offects Sulfur Masque
Zo Medical Products
ZO Medical products are a prescription range of products that are dispensed from our Worcestershire clinic. The underlying concept of ZO Medical products is 'Wash, Scrub, Oil Control, Stimulate and Protect'
Packed with powerful actives, ZO Medical products can help a wide range of chronic skin conditions, harnessing ingredients such as Hydroquinone, tretinoin, antioxidants, resurfacing agents and benzoyl peroxide
The Following Zo Medical Products Are Available For Purchase From Outline Skincare:
ZO Medical Balatone Calming Toner
ZO Medical Brightenex Skin Brightener & Correcting Crème 0.5%
ZO Medical Brightenex Skin Brightener & Correcting Creme 1%
ZO Medical Cebatrol Oil Control Pads
ZO Medical Glycogent Exfoliation Accelerator
ZO Medical Invisapeel Intensive Resurfacing Peel
ZO Medical Foamacleanse
ZO Medical Hydrafirm Eye Cream
ZO Medical Liprebuild Advanced Therapy Lip Treatment
ZO Medical Oclipse-C Broad Spectrum SPF 50
ZO Medical Restoracalm
ZO Medical Vita Scrub
ZO Medical Normacleanse Cleanser
ZO Medical Oilacleanse Cleanser
ZO Medical Retamax
ZO Medical Brightalive Non-Retinol Skin Brightener
ZO Medical C- Bright 10% Vitamin C Serum
ZO Medical Brightamax Brightening Creme
ZO Medical Aknebright
ZO Medical Post Procedure Recovery Program
ZO Medical Aknetrol
To Find Out More About The Amazing Results From Zo Skin Health And Zo Medical Products, Call Worcestershire's Premier Aesthetic Clinic On 01905 795028