CoolSculpting Fat Freezing
Non-Surgical Fat Removal
Award Winning Clinic
Permanent Results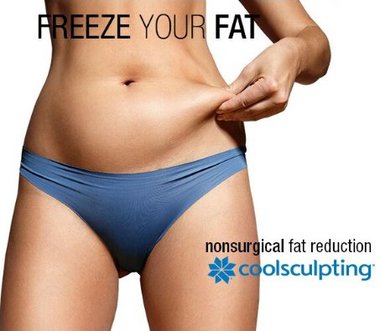 Trying to find CoolSculpting fat removal treatments in Droitwich, Worcestershire and Bromsgrove? Outline Clinic is a professional clinic situated in Droitwich, and serves those looking for fat freezing in Worcester and further Worcestershire areas too. We're the experts, so let us look after your needs. Call us on 01905 795028 to organise your consultation with us for CoolSculpting.
What Is CoolSculpting?
CoolSculpting is the ONLY FDA Approved fat freezing treatment available. CoolSculpting can target and kill fat cells and remove them permanently in a safe and effective way.
Using a process known as Cryolipolysis, fat cells are targeted during treatment and undergo apoptosis, or cell death. Unlike some other body cells, fat cells cannot reproduce and therefore the results are permanent. Over time, your body will remove the dead fat cells through your immune system.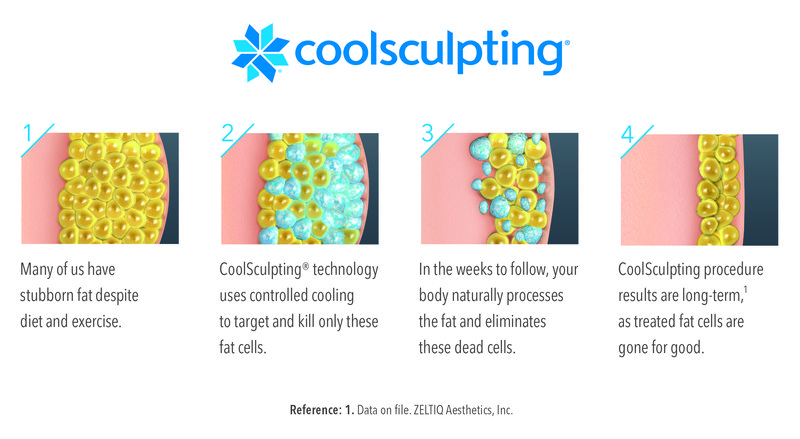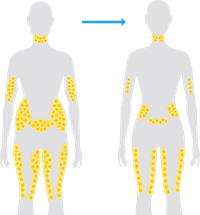 Areas of 'pinchable' body fat which can be successfully treated with CoolSculpting include:
Abdomen
Under chin
flanks (love-handles)
bra puffs
bingo wings
inner thighs
knees
outer thighs
saddlebags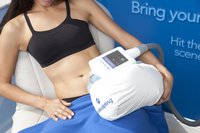 During the CoolSculpting procedure, an applicator is placed on the area to be treated, which uses vacuum suction to pull the unwanted fat into the applicator. This is strapped to you and the cycle commences.
The procedure is painless and feels cold.
There are no needles, no surgery, no anaesthesia and you can go straight back to work afterwards! There is no downtime, and most people resume their normal activities after CoolSculpting. You will start to see results 90 days after your treatment.
Step by Step CoolSculpting
The first step to take is to book a consultation with one of our highly experienced Clinic Practitioners. You will run through your full medical history and the treatment will be explained to you. If you decide to go through with CoolSculpting, an appointment with one of our practitioners will be arranged for you.

The area may swell and this can last a few weeks. The treated area may feel tender and bruised afterwards.

The area is placed inside a vacuum suction which feels cold. You should not feel the treatment. You can bring an iPad with you and watch films during the treatment, depending on the length of treament you have chosen.
Summary of CoolSculpting Treatment
Procedure Time 35 mins per cycle
Downtime Minimal
Anaesthetic None Required
Risks / Complications Swelling, bruising, tenderness and numbness not uncommon
Back To Work Immediately
Duration Of Results 90% of people achieve 20-40% fat loss
Results Possibly at 6 weeks; best results at 90 days
Before & After Images
Before

After

+

Before

After

+

Before

After

+

Before

After

+

Before

After

+
Before
After
X
FAQ's
The best results are seen at around 90 days after treatment. CoolSculpting is a permanent treatment, because fat cells are destroyed for good.

You are unlikely to see results on the scales, but you will look thinner. Each cycle will destroy around 20-40% fat from that area. You can treat the same area again, should you wish to.

You need to be within about 1 stone of your ideal weight. You should have a BMI under 28. CoolSculpting is designed to target stubborn areas that are resistant to diet and exercise. It is not a treatment for those who need to lose weight.

If you have good elasticity then your skin should shrink and retract back after CoolSculpting. However, if you have older skin with less elasticity, then there is a risk that the skin may be loose after treatment.

Most patients respond well with just 1-2 treatments to each area. You can repeat treatments if you wish to remove more fat.