Excessive Sweating Treatment
Stay fresh and reduce the embarrassment of hyperhidrosis
Treatment administered by medical experts
CQC Registered Clinic
Strict medical protocols in a safe, clinical environment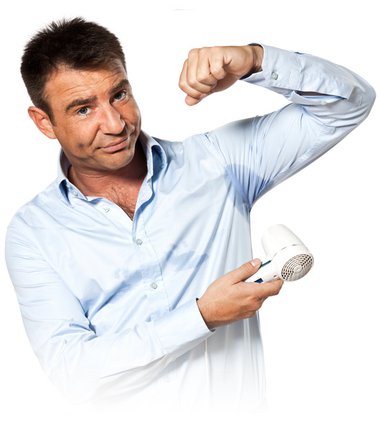 Are you searching for the best clinic for excessive sweating treatment? If so, then we offer excessive sweating treatment in Droitwich, Bromsgrove, Worcester or Worcestershire at our state-of-the-art clinic. At Outline Clinic we are the experts and you're in safe hands. Feel free to call us to arrange a visit and consultation on 01905 795028.
Hyperhidrosis is the term used for excessive sweating; affecting areas such as the underarms, feet and hands. It is a very common condition that can affect men and women, yet sufferers often leave it untreated due to embarrassment or lack of knowledge about the success of treatments. Around 1-2% of the population suffer with excessive sweating.
Botox is a type of Botulinum Toxin and has been shown in clinical studies to be effective in treating excessive underarm sweating.
This is a highly effective treatment that can help provide relief from sweating where other treatments such as prescription anti-perspirants and iontophoresis (electric current treatment) have not been successful. The availability of Botox treatment for excessive sweating on the NHS is limited, and for many patients it means a very long waiting time. The treatment can be carried out quickly, usually within 20 minutes, and is not uncomfortable.
Many patients report results lasting 12 months after treatment. The results are so effective that patients have reported a huge improvement to their lifestyle, for example, going from needing several changes of clothing per day to not having to use anti-perspirant at all.
Patients in Worcestershire, Droitwich and Bromsgrove who have had excessive sweating treatment see it as the ultimate life changer. Benefits include:
Not worrying about stained clothes or embarrassing smells.
Greater self confidence and comfort.
Wearing clothes and colours you have always avoided.
Excessive Sweating Treatment
Following a simple and painless starch indicator test, the areas where the sweat glands are located are precisely targeted with several small injections using a very fine needle, around 1cm apart. Botox interferes with the message being passed via the nerves to your sweat glands, resulting in less sweat being produced.
Results are usually noticeable within about 7-10 days. Treatment can be repeated as often as required and generally, the more you have the treatment the longer you can go between sessions.
After the treatment, the area may be tender for a couple of days and occasionally there may be a small bruise. You can resume normal activities straight away after treatment, although we recommend avoiding deodorants on the day of treatment.
Side effects from excessive sweating treatment with Botox are rare. However, it is important to remember that Botox is a prescription only medicine, and there may be some medical conditions that preclude you from treatment. It is not recommended to have Botox whilst pregnant or breast feeding.
We only offer this treatment at our bespoke clinic in Droitwich and we do not offer mobile appointments, nor do we operate from beauty salons. It is a legal requirement in the UK that you see the practitioner who will be prescribing the drug for you. Mary White, our prescribing nurse, has been prescribing Botox for sweating and lines & wrinkles for almost 10 years and your safety and well being is our priority. We never cut corners to reduce costs and we use only the premium products in our clinic that have FDA approval. Only 2% of UK nurses hold a prescribing qualification and it is important to verify that your practitioner is trained and qualified to perform the treatment for you. At Outline Skincare Clinic you are in safe hands.
Step by Step Excessive Sweating Treatment
The first step to take is to book a consultation with one of our highly experienced Clinic Practitioners. You will run through your full medical history and the treatment will be explained to you. If you decide to go through with Sweat treatment, an appointment with one of our practitioners will be arranged for you.

The treated area may feel a little numb for a few days. You will start to notice the results after 4-10 days. Do not apply anti perspirant for 24 hours after treatment.

The area will be marked out into a grid before being injected. The treatment is not usually painful and does not require topical anaesthetic cream (unless it is for hands and feet)
Summary of treatment
Procedure Time 15 mins
Downtime None expected
Anaesthetic None
Risks / Complications Redness, bruising, sweating in other body areas
Back To Work Immediately
Duration Of Results 3-9 months
Results Results noticeable after 7 days
| Hyperhidrosis (excessive sweating) | Price | |
| --- | --- | --- |
| Underarms | £395 | |
| Feet or Hands | £495 | |