Outline Clinic is small and friendly and our priority is your safety and treatment journey from the moment you step inside our clinic. We have a reputation for "going the extra mile" and we ensure that our patients enjoy the benefit of one-to-one, individual attention, without the sales pressure sometimes experienced in large, high turnover, nationwide clinics – after all, nobody likes feeling they are "just another number".
Our commitment to training and research means you can be confident that the treatment we provide will be safe and effective. We never put profit before your well-being and use only products that have FDA approval and therefore have an impeccable clinical track record. Our clinic is registered with the Care Quality Commission, the Independent regulators of healthcare provision in the UK. This means that we inspected by the CQC and must adhere to strict policies and procedures. It is vital to choose a provider who is registered with the CQC when you are considering aesthetic treatments. This helps to protect you from potential "rogue traders" or those practitioners who may not practice safely or may not have undertaken the correct training in aesthetic procedures.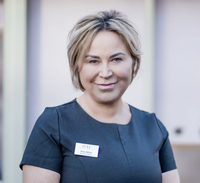 EXPERIENCE IS OUR SPECIALITY
Our medical professionals include Registered Nurse Mary White, who founded Outline Skincare Clinic back in 2001. Her aim was simply to deliver the highest quality of cosmetic enhancements in an ethical and professional way.
The aesthetic profession is one of the fastest growing in the UK at present. With so many clinics to choose from, it is easy to become overwhelmed and distracted by glossy brochures, elaborate and extravagant websites, not to mention alluring adverts for treatment. With this in mind, it is vital to be "in safe hands".
Mary's impressive collection of medical qualifications ranks her amongst the most experienced in aesthetics. Mary heads up the team herself, so you can be safe in the knowledge that her exacting standards and commitment to learning and excellence are passed down through the culture of the clinic.
Mary is proud to have been recognised as "Aesthetic Nurse Practitioner of the Year" in 2021. She sees this is being the pinnacle of her long career in aesthetics and is the culmination of life-long learning.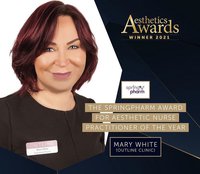 AWARD WINNING CLINIC
We are a multi Award-Winning Clinic! For two years running, in 2018 and 2019, we have been judged as the "Best Aesthetic Clinic Midlands & Wales" at the prestigious Aesthetic Awards which are held annually in London.
Mary is proud to have been recognised as "Aesthetic Nurse Practitioner of the Year UK and Ireland" in 2021. She sees this is being the pinnacle of her long career in aesthetics and is the culmination of life-long learning. Also in 2021, Mary White was Commended in the Aesthetics Awards for "Best Non-Surgical Result". She reached the finals with the 9 other finalists who were all doctors and surgeons, and was awarded the Runner Up for the Best UK Result.
In addition, we have been shortlisted every year for the Best Reception Team in the UK!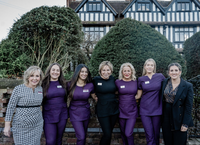 ABOUT OUR STAFF
Our fantastic team of staff are all local and all work solely at our Droitwich Clinic. We do not use temporary staff, so you know who will be treating you when you come to us.
We invest in our staff to ensure that they are fully trained to the highest level in all aspects of aesthetic medicine. Our commitment to research and learning means that we stay at the top of our field and you will regularly find our staff attending nationwide conferences and training academies.
You will never find us cutting corners or comprising your safety or well-being. You can read independent reviews and comments left by our patients by clicking here.
Meet our team....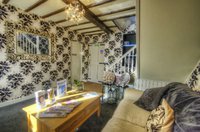 ABOUT OUR CLINIC
Our bespoke CQC registered clinic in Droitwich, Worcestershire houses state-of-the-art technology, whilst still maintaining an opulent, luxurious feel. Men and women from Worcester, Bromsgrove, Redditch and the surrounding areas state that our clinic is a small haven of relaxation, hidden away from the hustle and bustle of day-to-day life.
We have 4 fully equipped treatment rooms including one laser suite. We are members of the British Association of Cosmetic Nurses and the British Medical Laser Association.
With easy access from J5 M5 it is accessible to anyone living in Worcester, West Midlands, Redditch, Bromsgrove, Solihull, Birmingham and Malvern. We have plenty of free all-day parking available.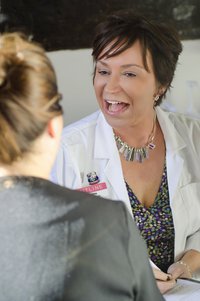 WE TAKE TIME...
….to get to know you and to make sure your treatment journey with us is a pleasant and safe one. We never rush consultations and will make sure that you are receiving the best and appropriate treatment for your money.
None of our staff work on a commission "sales" basis, so you won't be pressured into buying extra products or extra treatments when you are a patient at Outline Skincare.
When you have treatment with us, you will see the same person each time. The relationship between you and your practitioner is vital so you get the most from your treatment. Nobody likes having to relay information between lots of different people!