Laser Tattoo Removal Treatment
Rethink your ink with the latest, safe tattoo removal treatment by laser
CQC Registered Clinic
23 years experience in safe laser treatment
Strict medical protocols in a safe, clinical environment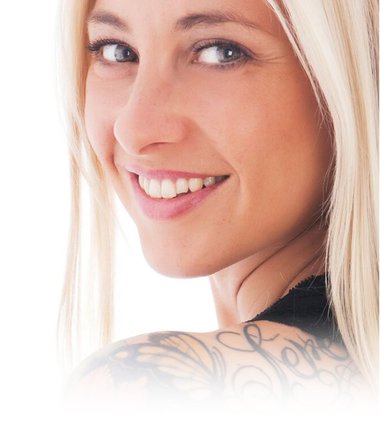 Are you ready to get rid of that unsightly tattoo and are looking for a reputable clinic offering laser tattoo removal Droitwich, Worcester or Worcestershire? Outline Skincare have many years experience so call us now 01905 795028 to arrange your consultation and test patch.
If you have ever regretted having your tattoo, you will be happy to learn that laser treatment can make it simply fade away. Your tattoo literally lightens with each laser treatment.
How Will Our Laser Tattoo Removal Worcestershire Team Remove Your Tattoo?
Outline Skincare specialise in offering laser tattoo removal in Droitwich and the Worcestershire area. We use a Cynosure Nd:Yag laser for tattoo removal in our Droitwich Clinic. It works by focusing a high-energy light beam that breaks the pigment in the tattoo into tiny pieces that the body's immune system then removes naturally. This is a process that is called phagocytosis. Over the series of treatment sessions the tattoo will fade in colour and intensity until after a course of treatment the tattoo is gone.
An easy analogy to understand the process of how the treatment works is to consider a large block of concrete. If you try to remove it and clear it away it is difficult, heavy and impossible for one man to do alone. Take a jackhammer to that concrete block and smash it up into smaller dust-like particles, and suddenly that concrete is now easy to sweep away with a broom and clear up... it may take you a while to do it, but it is manageable. Likewise, your body can cope with clearing up microscopic fragments of ink that have been broken down by the laser. With time your tattoo becomes lighter as the white blood cells gradually clear away the ink.
Groupon - The Pitfalls Of Bargain Basement Medical Treatments
Read Mary's Blog here about the perils of buying medical treatments on voucher bargain sites such as Groupon. Find out why cheap deals for tattoo removal are unlikely to be safe and effective.

Step by Step Laser Tattoo Removal Treatment
The first step to take is to book a consultation with one of our highly experienced Clinic Practitioners. You will run through your full medical history and the treatment will be explained to you. If you decide to go through with Laser tattoo removal, an appointment with one of our practitioners will be arranged for you.

The area is likely to bleed and scab over to form a crust. If you have red ink treated you may well get blisters. Do NOT pick or scratch any blisters or scabs as this can lead to scarring. The area will usually heal within around 2 weeks. You may apply Aloe Vera gel to the area to soothe it.

The laser treatment feels hot but is very fast. You will be required to wear protective eye goggles during treatment. We do not advise using anaesthetic cream prior to treatment as it can affect the results.
Summary of treatment
Procedure Time Typically 15-30 mins
Downtime Up to 2 weeks scabbing
Anaesthetic None
Risks / Complications Scabbing, scarring (rare), loss of pigmentation, need to avoid sun
Back To Work Immediately
Duration Of Results Permanent
Results A course of around 6-10 sessions is recommended. Results are seen after first session with lightening of tattoo
FAQ's About Laser Tattoo Removal Treatment
The sensation is described by many people as stinging slightly and therefore is easy to tolerate. The sensation is in many ways similar to the sensation of having a tattoo applied, but far quicker so the sensation does not last for long. It is quite normal for a crust to appear in the skin above the old tattoo, this will heal after a week.

The laser that we use has 2 different wavelengths and is suitable for treating most colours of ink. Tattoos with black, yellow, red and orange colours respond well to laser treatment, some colours however like aqua blue, green, pink, purple and white can be difficult to remove.

Each tattoo varies and will respond differently to the treatment. However as a rough guide a professional tattoo will take between 6 and 12 treatments before it is faded away, while amateur tattoos will often take between 2 to 6 sessions. It is of course possible that some will take longer than this. In order to provide a better estimation we would recommend booking a consultation with one of our therapists.

When laser tattoo removal technology first began, it received bad press. These early surgical CO2 lasers sometimes burnt the skin and could cause significant scarring. Todays lasers are far more advanced and work in a different way by focusing the light only on the ink pigment which is then carried away by the body's immune system.

Over the last 2 decades, Mary White our Prescribing Nurse has successfully removed thousands of tattoos without scarring. It is normal for the skin to appear darkened or lightened after the treatment and this should reduce over time. Mary played an integral part of the advent of Q-Switched lasers for tattoo removal into the UK back in 1992/1993 and carried out trials with these lasers. These are the same lasers that are still used today for tattoo removal. We do not exaggerate the nature of this treatment nor mislead you about the length of time it will take to clear your tattoo. 20 years of experience has taught us which tattoos do and don't respond quickly.

The cosmetic laser industry is sadly unregulated at present, and this means than non-medically qualified practitioners can carry out laser treatments that are potentially dangerous. With Outline you are in safe hands. Don't trust your safety, well being and health to a non qualified clinic or tattoo artist studio. As a medical led clinic we can also guide you through any problems, side effects or difficulties that non medics simply cannot. We would always recommend a sunblock, with a minimum SPF30,during the laser treatment period.
| Tattoo removal with | Therapist | Nurse |
| --- | --- | --- |
| Very Minor Single (amateur) | £35 | £50 |
| Course x 4 | £105 | £160 |
| Minor Professional Single (up to 2 inch) | £50 | £80 |
| Course x 4 | £160 | £250 |
| Course x 8 | £260 | £410 |
| Intermediate Professional Single (up to 4 inch) | £75 | £100 |
| Course x 4 | £240 | £320 |
| Course x 8 | £390 | £520 |
| Major Professional Single (up to 7 inch) | £100 | £125 |
| Course x 4 | £320 | £400 |
| Course x 8 | £520 | £650 |