Our Clinic
Outline Clinic is an established medical led aesthetic and laser clinic in Droitwich and we serve over 4500 patients in the Worcester, Worcestershire and Bromsgrove areas. We specialise in the provision of non-surgical aesthetic, laser and skin treatments.
Our clinic is purpose designed with 4 treatment rooms, including a fully fitted laser suite. You will find our clinic based within one of Droitwich's most historical buildings - the beautiful Listed St Peters Manor, which dates from 1618 and is steeped in original features. Our boutique clinic is situated over 2 floors in this tranquil location.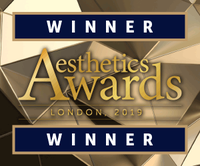 We are delighted to announce that we are a multiAward-Winning Clinic! For two years running, we have been judged as the "Best Aesthetic Clinic, Midlands & Wales" at the prestigious Aesthetic Awards, based in London. We are won this accolade in 2018 and 2019. In 2021, Mary was also recognised as "Aesthetic Nurse Practitioner of the Year". This was voted throughout the whole of the UK and Ireland, and she sees this accoldae as the pinnacle of her 26 year long aesthetic career.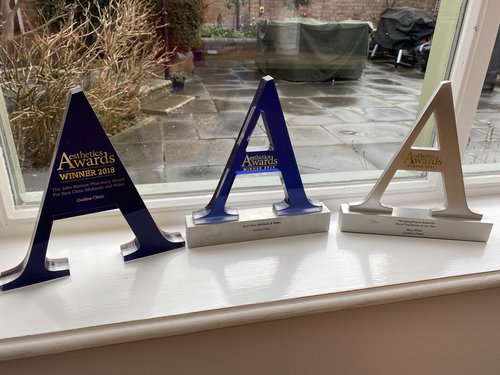 You can read about all the awards we have won on our dedicated News Page
Patients at Outline enjoy the benefit of one-to-one, individual attention without the pressure sometimes experienced in large, high turnover, "sales environment" clinics. Also, importantly, the clinic is family owned and run, which means we have a vested interest in making sure you leave the premises satisfied! We have helped thousands of patients over the years to feel more confident about their appearance and more importantly, to be happy when they look in the mirror!
Your safety is our priority, and importantly, we want you to be happy with your treatment. This is why we are anxious to avoid the "conveyor-belt" approach that some patients experience in many of the larger clinic chains. We never rush your appointments and you always see the same practitioner, as we believe that this gives a more reassuring experience in our clinic and helps to prevent a fragmented pathway of care for you.
We want our patients to experience the perfect patient journey, right from their first phone call contact through to leaving the premises. We want to deliver the very best quality treatment available in the very best and safest premises.
The aesthetic industry is one of the fastest growing in the UK at present. With so many clinics to choose from, it is easy to become overwhelmed and distracted by glossy brochures, elaborate and extravagant websites and "one-stop" clinics for all your beauty, slimming and dentistry needs under one roof. Because we specialise in our field and we don't profess to specialise in any other, we deliver your treatment safely and effectively – this is what we have done for over a decade!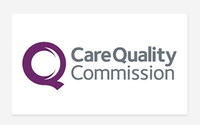 When you are choosing your cosmetic provider, we believe that your safety and well-being are paramount. We understand that for many people, price and getting the best deal is important, but we feel that should not be at the expense of your health. We are experts in our field and as a medical led clinic, we don't cut corners and as we are registered with the independent regulator of healthcare provision, the Care Quality Commission, we adhere to rigorous protocols implemented by them. Our ethos is about quality and delivering excellence every time, and this is not possible when working to a "budget/cut-price" model.

We only use the highest quality products in our clinic that have undergone rigorous clinical trials to be FDA approved. This means that you are receiving a gold standard treatment in safe hands. You can read and watch videos about our happy patients here.
Clinic Opening Times
Monday 10am - 8pm
Tuesday 10am - 7pm
Wednesday 10am - 8pm
Thursday 10am - 7pm
Friday 9am - 5pm
Saturday 9am - 5pm
Sunday Closed
Free Treatment Factsheet
Questions you should ask your aesthetic provider
Trust Us - Accreditations
Customer Reviews
Read genuine reviews from local people about our clinic, staff and treatments we offer here