Meet The team

Over the years we have established a strong team of professionals to deliver the highest standards of care.
All of our staff are highly trained in extensive courses to ensure your safety during any treatment we provide.
Our medical professionals include Registered Nurse Mary White, who has 23 years experience in medical and laser aesthetics. Mary's qualifications include Independent Prescribing, a speciality in medical laser applications and a BA(Hons) degree.
Mary heads up the team herself, so you can be certain her exacting standards are passed on as a culture of excellence throughout the team.
Team Members
MARY WHITE RGN BA(Hons)

NIP DIRECTOR & CLINIC NURSE

Mary has been a Registered Nurse for 24 years and leads the Outline Skincare Team. She has worked in the medical cosmetic and aesthetics field since 1993, and has previously specialised in lasers within the Dermatology sector. Mary has almost 18 years experience with dermal fillers, starting off with Collagen™ in the early 1990's and was around for the advent of the modern HA (Hyaluronic Acid) fillers that we see today.

During 2007-2011, Mary was the UK Clinical Nurse Trainer for both the Candela and Cynosure Laser Corporations. This role involved training other nurses, doctors and surgeons in the use of medical lasers in the Dermatology Sector. Mary was the UK trainer for the Cellulaze laser – the UK's first FDA approved laser for the reduction of cellulite – and is proud to have worked alongside Dr Eduard Krulig (the man behind Amelan Pigmentation Treatment) in his clinic in Tenerife.

Mary established the Outline Skincare clinic in 2001 and is proud to have seen it grow over the years into the success that it is today. As an Independent Nurse Prescriber, Mary is one of approximately 2% of British Nurses who hold this qualification. She is also a member of the British Medical Laser Association and British Association of Cosmetic Nurses.

When not at work, Mary enjoys gardening and playing the piano, not particularly well, for those of a certain age - think Les Dawson!!

JACQUIE JOHNSON

PATIENT CARE MANAGER

Jacquie has worked in Private Aesthetic Clinics for some 20 years, so joins us with a wealth of experience. She was Registered Manager for a cosmetic clinic under the Care Homes Act for 8 years.

Jacquie is responsible for ensuring our patients receive the very best care and attention and she is your first contact if you need help or assistance on your journey with us.

Jacquie has a real passion for skin health and carries out a lot of our skin analysis and skin fitness assessments. Jacquie has a extensive knowledge of the ZO Skin Health range of products and is great for offering advice about this, and anything to improve the apprearance of your skin and complexion.

When she isn't at work, Jacquie spends time socialising with her husband and walking her 2 dogs.

LOUISE ADAMS

RECEPTIONIST

Louise joins Outline as our Receptionist from a large chain of hospitals specialising in Cosmetic Surgery which gave wonderful insight and experience into the industry. Louise has trained as a hairdresser and a nail technician and has always had a real passion for beauty. Louise is looking forward to expanding her knowledge on skincare and treatments and will be attending further NVQ courses to develop this.

Working on reception gives an opportunity to meet and greet all of our clients and helping them on their journey.

In her spare time Louise enjoys walking with her two dogs, travel and dining out with her partner and friends, and spending time with her gorgeous family of four children and six grandchildren.

CHARLOTTE REES

AESTHETIC THERAPIST

Charlotte is a fully qualified Beauty Therapist and holds her NVQ Level 3. Additionally, Charlotte holds a Degree in Makeup Artistry and Makeup for Special Effects.

Within this time she has gained experience in a Beauty Salon carrying out a broad range of treatments such as massage, facials, manicure, pedicure, waxing, lash and brow treatments and Caci treatments.

Charlotte moved on to work for a Skin Care Brand called Dermalogica. Within this role Charlotte advised clients on the correct products for each individual to target their concerns. Charlotte also carried out skin treatments using electrical modalities to enhance the results. This is where Charlotte found her passion for skin and wanted to broaden her skills.

Charlotte then took it upon herself to do her Level 4 Qualification in Laser and moved on to work for a large National Clinic Chain. This role involved carrying out Laser Hair Removal, Glycolic Peels and Microdermabrasion. Charlotte really enjoyed this role and wanted to progress.

Charlotte is now enjoying her time at Outline Clinic and is fully trained to carry out laser hair removal, HydraFacial, glycolic skin peels, ZO stimulating face peels and Endymed skin tightening.

In Charlotte's spare time she enjoys taking her dog out for nice long walks, spending time with her boyfriend, family and friends, eating out and of course shopping!

MARY JANE PODMORE

AESTHETIC THERAPIST

Mary Jane has joined us with almost 10 years Industry Experience.

Mary Jane is a fully qualified Beauty Therapist and holds her NVQ Level 3. Additionally, Mary Jane holds a diploma in nutrition and she is currently studying sports massage and will be qualified in early 2017.

Mary Jane has worked for some years as an Aesthetic Therapist for some large Aesthetic Clinic Chains. Within this roles Mary Jane has advised patients on the correct skincare products and treatments to target their individual concerns. Mary Jane is experienced in most aesthetic treatments including Laser Hair Removal, Skin Peels, Medical Needling, Microdermabrasion, Weight Management and Body Contouring.

Mary Jane is now enjoying her time at Outline Clinic and is fully trained to carry out Laser Hair Removal, HydraFacial, glycolic skin peels, ZO stimulating face peels, skin needling, Advanced Electrolysis and Endymed skin resurfacing and skin tightening. She is extremely passionate and knowledgeable about skin health and enjoys sharing tips and tricks to enable patients to be "complexion confident" with advanced cosmeceutical skincare.

In her spare time she enjoys exercise, walking her dog, spending time with her boyfriend, family and friends, and eating out.

SUNDAS IQBAL

AESTHETIC THERAPIST

Sundas is a fully qualified NVQ3 beauty therapist, also trained in hairdressing. Having started work at the age of 17 in a well-known franchise chain she began her career not knowing what she wanted to become. Having experienced the hair dressing industry she decided to then move to beauty, which became her passion.

She has been in the aesthetic industry for 7 years and has huge experience in medical needling, IPL and laser hair removal, skin peels, hydrafacial and other beauty treatments.

Having joined Outline Clinic, she's looking forward to expanding her knowledge on skin care and the treatments provided.

In her spare time Sundas is a full time mum to a little boy so doesn't get much time, but loves to read and take long walks and socialising when she can.

LISA SMITH

AESTHETIC THERAPIST

Lisa is a fully qualified NVQ3 Beauty Therapist and has over 20 years experience in the beauty industry.

Having worked in a beauty environment for over 10 years, she then joined Virgin Atlantic as an in-flight beauty therapist. For the last 12 years Lisa has run her own beauty business from home whilst raising her 3 sons, who keep her very busy!

Lisa is excited about joining Outline Clinic and looking forward to delivering her excellent standards of care to our patients.

Lisa enjoys running with her dog, Lincoln, and spending time with her partner and boys.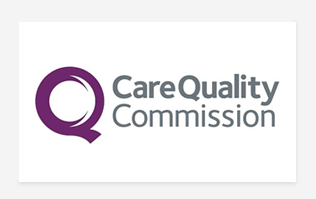 Choose A CQC Registered Clinic
When you are choosing your cosmetic provider, we believe that your safety and well-being are paramount. We understand that for many people getting the best deal is important, but we feel that should not be at the expense of your health. We are experts in our field and as a medical led clinic, we don't cut corners and as we are registered with the independent regulator of healthcare provision, the Care Quality Commission, we adhere to rigorous protocols implemented by them.
We only use the highest quality products in our clinic that have undergone rigorous clinical trials to be FDA approved. Whilst this may mean that we don't use the cheapest products it does mean that you are receiving a gold standard treatment in safe hands. You can read and watch videos about our happy patients here.
Clinic Opening Times
Monday10am - 7pm
Tuesday10am - 7pm
Wednesday10am - 7pm
Thursday10am - 7pm
Friday10am - 7pm
Saturday9am - 3pm
SundayClosed
Trust Us - Accreditations
Customer Reviews
Read genuine reviews from local people about our clinic, staff and treatments we offer here