Dermal Fillers - Restylane & Juvederm
Smoothing out laughter lines and wrinkles whilst retaining harmony of the features
CQC Registered Clinic
Appointments 6 days a week
Natural looking results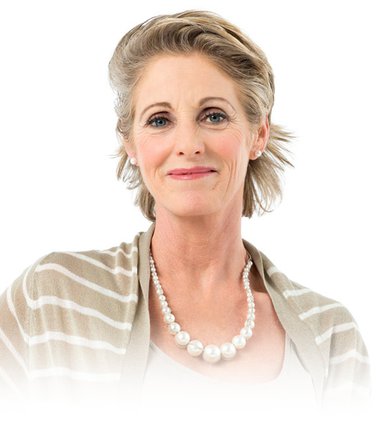 What are Dermal Fillers?
At our Droitwich Clinic, Outline Clinic, we carry out treatments using temporary dermal fillers, such as Restylane, Juvederm and Emervel, which usually last from a few months up to a maximum of 12-18 months. Most of the products we administer are made from hyaluronic acid (HA).
Over a period of time, our skin loses elasticity and youthfulness and this is down to the gradual loss of underlying structures below the skin, which include bone, fat and collagen. As the superstructure of the face loses volume, folds, wrinkles and general "sagging" of the skin occurs. The face loses its youthful look and the widest part of the face goes from being at the top (in youth) to being at the bottom (in more mature faces).
Think of it in very general terms, like hanging a fixed size tablecloth onto a table. Then transfer the same tablecloth to a much smaller table, and the cloth hangs in folds at the bottom.
We use dermal fillers to correct this, by restoring the lost volume (making the table bigger again) and also by smoothing out the smaller lines and wrinkles. By the use of temporary dermal fillers, we can improve the texture and appearance or you skin and restore your youthful look. Dermal fillers such as Juvederm & Restylane can be combined with other non surgical and laser treatments for a holistic approach to facial rejuvenation.
About Dermal Filler Treatments
Men and women in the Worcestershire area rarely ask us if we can really make them look "10 years younger". Most people simply want to keep expectations realistic and aim for a natural and fresh look - we aim to make all our patients look "great for their age". Mary, our prescribing nurse, has over 16 years experience in carrying out dermal filler treatments, and has gone from injecting Collagen back in the 1990's to the more holistic approach of full facial restoration that is seen nowadays.
We use several different dermal fillers at our clinic in Droitwich and together with our patients, we select the appropriate product for the desired look. We don't offer a "one product fits all" approach by only offering one brand of dermal filler, and we only use the best quality products that have FDA approval. There are many different dermal fillers in the UK that we would never contemplate using. Our chosen products have a proven track record and safety profile and this ensures that the products we use are fit for purpose and will give the longevity of results that our patients expect. You may be surprised to learn that in the UK there are over 100 different types of dermal fillers available – 95% of which we would not even consider using!
Juvederm Dermal Fillers
Juvéderm® ULTRA is a dermal filler that provides a long lasting alternative to surgery. Juvéderm treatment can help to restore the skin's natural elasticity and hydration, as it is made from hyaluronic acid (HA) – a substance found naturally in the skin.
When injected into the dermis, Juvéderm dermal filler treatment can improve hollowing, loss of volume, improvement in fine lines and wrinkles and improve radiance and texture of the skin.
Juvéderm treatments are favoured by patients as the product is known for longevity, and has an impressive track record for safety and excellent clinical results. Leading UK brands of dermal fillers include Juvéderm and it has the reassurance of being an FDA approved dermal filler.
As we age it becomes more difficult to retain our skin's youthful, healthy and toned look, which is free from wrinkles and lines. Unsurprisingly, Juvéderm is considered one of the UK's top dermal fillers, as there have been over 16 million treatments carried out worldwide.
Juvéderm Vycross Products
Juvederm Voluma, Volift and Volbella provides a safe and effective treatment for loss of volume of the skin, which in turn, leads to sagging and drooping. With ageing, comes the loss of bone structure and also subdermal fat components from the upper and mid parts of the face.
The loss of these structures causes the formation of deep folds lower in the face. By using Juvéderm Voluma to replace this lost volume, improvements are seen around the jowls, nose to mouth lines and jawline. The new technology and the cohesion of the HA gel in these products, means the product flows very smoothly and in a uniform manner when injected. Results are instant, long lasting and extremely natural.
Step by Step Dermal Fillers - Restylane & Juvederm
The first step to take is to book a consultation with one of our highly experienced Clinic Practitioners. You will run through your full medical history and the treatment will be explained to you. If you decide to go through with Dermal Fillers, an appointment with one of our practitioners will be arranged for you.

The treated area may swell and this can last 24-48 hours. Bruising can occur which can be covered with camouflage cream.

The dermal fillers we use are impregnated with local anaesthetic which makes the treatment comfortable. The filler will be placed into the skin at varying depths according to the requirements. There is minimal discomfort associated with the treatment.
Summary of treatment
Procedure Time 30 - 45 mins
Downtime 24-48 hours
Anaesthetic Topical
Risks / Complications Asymmetry, bruising, infection, swelling
Back To Work 24 Hours
Duration Of Results 9-12 months
Results Immediate
Before and After Images
Before

After

+

Before

After

+

Before

After

+

Before

After

+

Before

After

+
Before
After
X
| Dermal Fillers | | |
| --- | --- | --- |
| From £295 per syringe | | |
| Additional syringes available at a discounted rate during same treatment | | |