Full Face Rejuvention
Firm and tighten sagging skin at Worcestershire's Premier Aesthetic Clinic
All injections administered by medical experts
Appointments 6 days a week
Natural looking results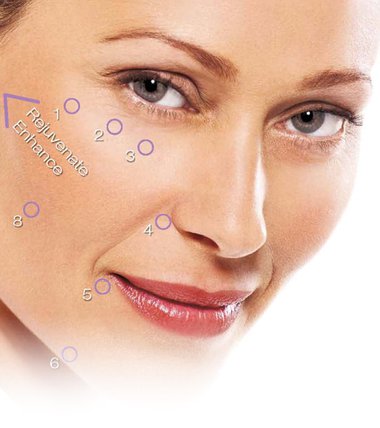 Outline Clinic in Droitwich, Worcestershire are the experts when it comes to Full Face Rejuvenation (The Liquid Facelift), restoring facial volume and Juvederm dermal fillers. For more information about the Liquid Face Lift, then read on or call us on 01905 795028.
The ageing process and volume loss
As we age, our facial structure changes and fat becomes repositioned and bones lose density and can shrink. The result is sagging of the face, drooping skin and a "tired" expression.
Men and women from the Droitwich, Worcester, Solihull and Birmingham areas, often come to see us, concerned about jowl formation and a loss of elasticity around the mouth and chin area.
In fact, often by restoring volume deficits in the upper/mid part of the face, these areas of concerns can be well addressed and lifted, leading to a more youthful and rejuvenated look.
What is Full Face Rejuvenation?
Using a bespoke approach, with the new VYCROSS range of Juvederm dermal fillers, it is possible to revitalize, reshape and lift the face and achieve a natural result.
The 8 Point Lift was developed by Brazilian Surgeon, Dr Mauricio de Maio and involves injecting deposits of Juvederm Voluma and Juvederm Volift in 8 distinct treatment areas. Our Nurse Mary (Recognised as Aesthetic Nurse of the Year 2021) has developed this concept into her very own bespoke treatment, which delivers a full face rejuvenation effect.
Mary White, our prescribing nurse and clinical medical director, can achieve results that are extremely natural and long lasting, whilst making a significant difference in the way you look and feel! Full Face Rejuvenation is an advanced procedure, which is carried out only by experienced practitioners and in Mary's expert hands, with her critical eye for detail, your appearance will be subtly improved with a complete solution for tissue loss, as opposed to simply "filling a line". The procedure is adapted for each individual patient based on their own personal profile and requirements, to give the optimal outcome. The treatment is usually delivered in 2 or 3 sessions, which Mary advises are taken a month apart.
Step by Step Lquid Face Lift
The first step to take is to book a consultation with one of our highly experienced Clinic Practitioners. You will run through your full medical history and the treatment will be explained to you. If you decide to go through with Liquid FaceLift, an appointment with one of our practitioners will be arranged for you.

The treated area may swell and this can last 24-48 hours. Bruising can occur which can be covered with camouflage cream.

The dermal fillers we use are impregnated with local anaesthetic which makes the treatment comfortable. The filler will be placed into the skin at varying depths according to the requirements. There is minimal discomfort associated with the treatment.
Summary of treatment
Procedure Time 60 mins
Downtime None expected
Anaesthetic None
Risks / Complications Allergy, minimal redness
Back To Work Immediately
Duration Of Results Ongoing with maintenance
Results Immediate; best results seen a few days after treatment
Before and After Images
Before

After

+

Before

After

+

Before

After

+
Before
After
X
FAQ's About Full Face Rejuvenation
Vycross products are the latest technology in the Juvederm range. They are the "next step up", latest generation within the dermal filler range. They are still manufactured from Hyaluronic Acid, as with the other traditional Juvederm and Restylane fillers, but they are more cohesive, which means they can last longer in the skin, before being broken down. Whilst traditional dermal fillers typically last 9-12 months, Vycross products are lasting 12-15 months in many patients. Vycross is a patented range of products and includes: Juvederm Voluma – for restoring facial volume to cheeks, chin and deeper tissues Juvederm Volift – for treating medium deep lines and areas such as mouth corners Juvederm Volbella – for enhancement of the lip and mouth area.

Mary's expert approach and extensive knowledge of the ageing process and how to address it, means she performs advanced procedures at our Droitwich Clinic. These are often combined with advanced toxin treatments (Botox). Other less experienced practitioners may offer to treat a nose to mouth line, if this is what the patient is concerned with. Mary goes to the next stage and treats the problem that is causing the line of wrinkle to be there in the first place! This often means that filling to the mouth and jaw area can be reduced, as often injecting in this area can make jaws and jowls appear even heavier.

This is an advanced procedure, and only selected practitioners in the UK are trained to perform it. As with any deep dermal fillers, it is essential that the treatment area is scrupulously clean and a sterile environment is maintained. For this reason we do not perform treatment outside our bespoke clinic in Droitwich, Worcester. We do not operate from beauty salons as it is important that your safety and well being are at the forefront of your treatment. It is vital to have have good lighting and correct positioning for this procedure. We never compromise your safety by putting profit before your well-being.
| Full Face Rejuvenation (per phase) | | |
| --- | --- | --- |
| £900 | | |
| | | |