LED Phototherapy Mask
Boost your complexion with the latest celebrity LED mask favourite treatment
Celebrity favourite treatment
No downtime
Appointments 6 days a week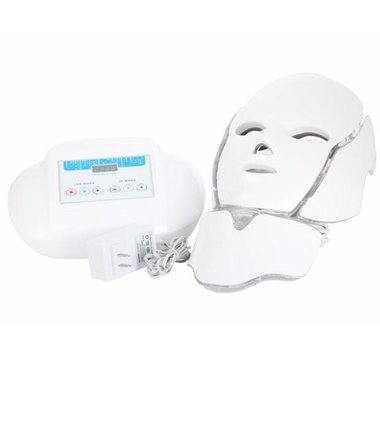 If you have seen the latest buzz about LED therapy, including images of your favourite celebrities wearing a mask that looks like something out of Phantom of the Opera, then visit us and receive the same treatment at Outline Clinic in Droitwich, Worcestershire near Bromsgrove.
Favoured by celebrities such as Kourtney Kardashian, Jessica Alba, Chrissy Teigen, Leanne Brown, Alex Gerrard and Kate Hudson, this mask is the latest treatment for anti-ageing and skin radiance.
Our LED Phototherapy Mask treatment is painless, affordable and suitable for all skin types! By using different wavelengths of light we can treat different skin conditions, and by using light therapy that absorbs into the skin at varying depths, this treatment improves skin tone, clarity and radiance.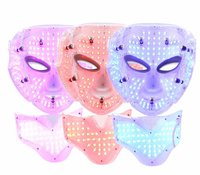 The LED mask utilises differing wavelengths of light and the 3 modes combine nfra-Red light (830nm) with red and blue LED light:
Red light penetrates deeply into your skin and helps to increase blood flow, hilst also stimulating collagen and elastin production. This helps to firm skin, creating a more youthful appearance. It is useful for
Skin rejuvenation
Skin healing
Sun damaged skin
Wrinkle reduction
Skin tightening
Rosacea
Skin toning tightening and texturing
Blue light at a specific wavelength is helpful for acne and spots as it is able to eliminate certain bacteria, such as P-acnes, which cause colonisation of spots. Blue light also stabilises oil production and is soothing for irritated skin. This mode is helpful for
Acne
Antimicrobial treatment
Wound Healing
Skin Rejuvenation
The final mode is using a blend of the two coloured lights, again with infra-red and is helpful for
Acne
Antimicrobial treatment
Wound Healing
Skin Rejuvenation
Pain relief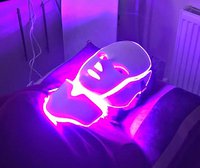 There is an additional benefit of galvanic current, which helps with lymphatic drainage to assist with removing impurities. It also helps with facial toning.
Step by Step LED Phototherapy Mask
The first step to take is to book a consultation with one of our highly experienced Clinic Practitioners. You will run through your full medical history and the treatment will be explained to you. If you decide to go through with LED Phototherapy Mask treatment, an appointment with one of our practitioners will be arranged for you.

There is a very small chance your skin may be slightly pink for up to an hour after treatment, but this is unusual. The low risk of side effects makes this a perfect lunchtime treatment.

During the treatment your skin may feel slightly warm, and you will see coloured light emitted by the mask. This is not damaging to your eyesight.You may feel slight tingling if you are having treatment in the galvanic mode.
Summary of treatment
Procedure Time 20 mins
Downtime Minimal, if any
Anaesthetic None
Risks / Complications Very slight risk of redness
Back To Work Immediate
Duration Of Results Ongoing, with maintenance
Results Visible after 4 weeks; best results with a course of treatment
| LED Phototherapy Mask | | |
| --- | --- | --- |
| Single treatment £55 (20 mins) | | |
| Course 4 £190 | | |
| Course 8 £350 | | |