Hello Dermaplaning - Bye Bye Peach Fuzz!
So lets talk about this treatment….
Dermaplaning is a method of exfoliation that gently scrapes off the top layer of dulling dead skin cells in order to reveal a smoother, brighter complexion.
People choose to have Dermaplaning because it also helps eliminate that annoying peach fuzz that cakes up in makeup and can be enhanced by harsh production lighting and high-definition cameras.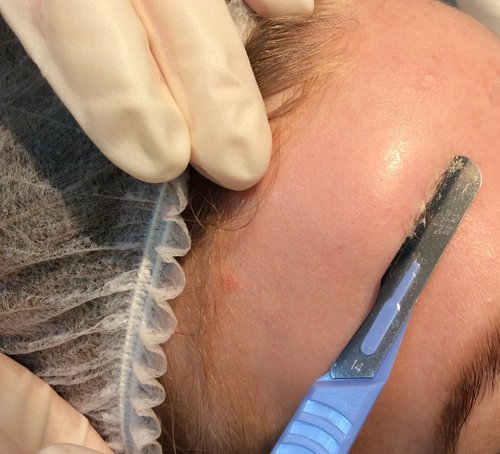 Dermaplaning removes all the dead skin cells and also the facial hair, leaving the surface very smooth.
Dermaplaning also allows for greater penetration of skincare products and creates a flawless canvas for makeup to glide on smoothly. In fact, cosmetic dermatologists often use dermaplaning to help prepare skin for more intrusive procedures such as laser treatments and chemical peels.
We would recommend Dermaplaning for all skin types except those with acneic skin. If you have deep cystic acne, wait until breakouts are clear before trying this treatment. As always, also discuss with us any allergies or skin sensitivities before starting a treatment.
And don't worry......it is impossible for vellus fine hair (peach fluffy fuzz) to grow back as thick, coarse terminal hair, as the two types are entirely different. Your peachy fuzz will simply grow back as peachy fuzz again!
HOW LONG DOES IT TAKE?
About 30 minutes as a stand alone treatment.
ARE THERE IMMEDIATE SIDE EFFECTS?
There are no side effects and zero downtime. After the treatment, your skin will be highly sensitive to sun exposure and may already look slightly pink, so be sure to wear a broad-spectrum sunscreen with SPF50 to reduce the risk of sun damage.
YOUR RESULTS
You will immediately look more radiant with a more even skin tone and texture. All of your peach fuzz will be gone, which is why first-timers say their skin has never felt so soft and silky.
If you have resilient skin, try coupling HydraFacial and Dermaplaning, or Dermaplaning with a glycolic peel in the same session for incredible results. We call these our HydraPlane and DermaPeel treatments.
Treatment prices
1 treatment £44
A course of 6 treatments - £220
A course of 12 treatments - £396
We also have direct debit packages for dermplaning. An annual package for 6 dermaplaning sessions in a year will cost you just £20 a month!